The B!#ch Blend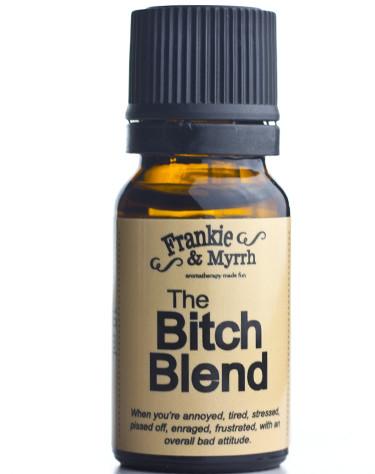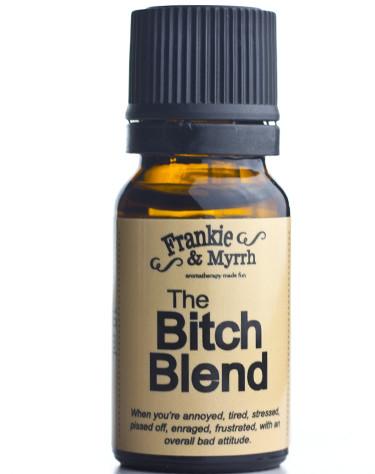 The B!#ch Blend
Balance emotions
Essential Oil Blend in a dropper bottle
10ml/.33 Fl oz
WHAT DOES IT SMELL LIKE?
Well rounded floral, with notes of lavender and citrus.
WHAT OILS ARE IN IT?
Rose Geranium, Clary Sage, Lavender, Bergamot, and Frankincense.
WHAT DOES IT DO?
Balance emotions. Even the ones that you swear aren't yours.
MORE INFO

To help with PMS, hot flashes, menopausal issues, and overall general bitchiness, we use the two oils considered to be the best for those issues: Rose Geranium and Clary Sage. Then we add Lavender, Bergamot, and Frankincense, which all have a calming effect.

The blend has a wonderful, well rounded floral scent with the smell of Rose Geranium being the most prominent. Bergamot and Lavender provide the light refreshing top notes to start the scent. Clary Sage provides a strengthening woody, herbal note to the middle of the scent. The classic smell of Rose Geranium carries the scent through the middle and pleasantly lingers until Frankincense adds the needed depth at the end.

The B!#ch Blend is an essential oil blend with a purpose, and now you can add it to a diffuser and spread it through the room, or office, to share its effects with those who need it most.
10mL/.33 oz Dropper bottle
Ingredients: Essential oils of Lavender, Bergamot, Geranium, Clary Sage and Frankincense.